It's the day we've been waiting for ALL summer... actually ALL year. We are heading out today for our family's most favorite week of the year. NINETEEN of us ages two to ummm... we'll just say much older, from both sides of the family plus a couple of extra's thrown in for good measure... at the beach... in three condos... for a week. WOOT! Now that's what I call a
Too dang bad Frankie and Annette can't join us.
And I know I'm not supposed to tell the entire world we are leaving town, but if anyone has any idea about ransacking our house while we're gone, don't bother... we are taking EVERYTHING we own with us.
My SUV looks pretty much like this...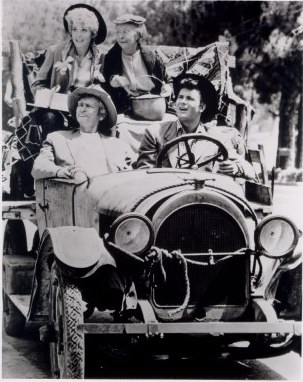 And if that doesn't deter any potential robbers... guess who lives next door?
Yep... that's Mrs. Kravitz, AKA my next door neighbor. Don't worry, if she reads this she won't be offended, she is well aware of her stellar snooping skills.
So the next time you hear from me, I plan to be posting from
THIS VERY SPOT where I intend to be planted for the next week...

Oh, be right back... I think my glass needs a little umbrella.